Welcome to the Institute of Computer and Network Engineering
Welcome to the Institute of Computer and Network Engineering
---
In more than 50 years, our research has actively contributed to the enormous progress in efficient, dependable and safe computers and network systems. Computer and network engineering is at the research-intensive core of future intelligent autonomous systems. As our main application domains, we address complex embedded and cyber-physical space and automotive systems. We combine sophisticated theory with computer and network architecture and design all the way to practical hardware-software designs. Please, visit our web site to learn more about our research and teaching activities.
TU Braunschweig
Institut für Datentechnik und Kommunikationsnetze
Hans-Sommer-Straße 66
38106 Braunschweig
Germany

---
Inaugural Lecture of Prof. Dr. Andres Gomez
On 05.12.2023 at 16:00 in Pockelstraße 11 (Aula, Haus der Wissenschaft) Professor Dr. Andres Gomez will give his inaugural lecture on the topic "Renewable Energy meets Low Power Systems and Launches to Space".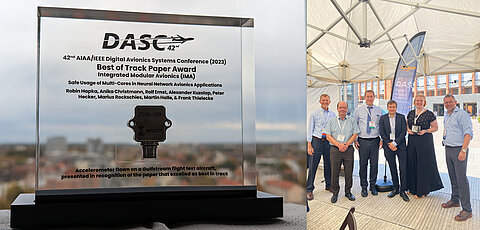 The paper "Safe Usage of Multi-Cores in Neural Network Avionics Applications" received the Best of Track Paper Award at the IEEE Digital Avionics Systems Conference (DASC) in Barcelona, Oct. 1-5, 2023. DASC is the IEEE annual conference of research in avionics covering all aspects of new functions and software and air traffic.
The paper presents a new technique, called Timing Diversity, which protects the execution of real-time machine learning applications on high performance on-board computers against timing errors. The authors are from IDA and IFF at TU Braunschweig and from FST at TU Hamburg. Background is the German BMWK-Project MC-ADAMS
Congratulations to the authors!
---